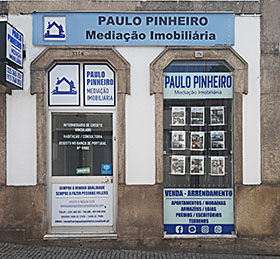 Welcome to Paulo Pinheiro Mediação Imobiliária
Paulo Pinheiro Mediação Imobiliária, is composed by Real Estate Consultants with extensive training and knowledge in real estate.
We are a real estate agency based in Águas Santas - Maia, with
the aim of helping our customers since the mediation of purchase,
sale and rental of property, selection of the financing more appropriate to each case, proximity to several banks. Manager: Paulo Sérgio Pereira Pinheiro credit intermediary registered in Banco de Portugal Nº 4480.
We strive to meet the demands of our customers in what they seek, treating and monitoring the whole process necessary for the purchase, sale or lease of real estate, the satisfaction of our customers is our priority.
Our professionals work based on the commitment of the trust, professionalism and competence, with a single purpose:
FIND THE IDEAL SOLUTION FOR EACH CUSTOMER.
We work any area in the North of the country.
We are here to help!
We look forward to your contact.